Minimax R-3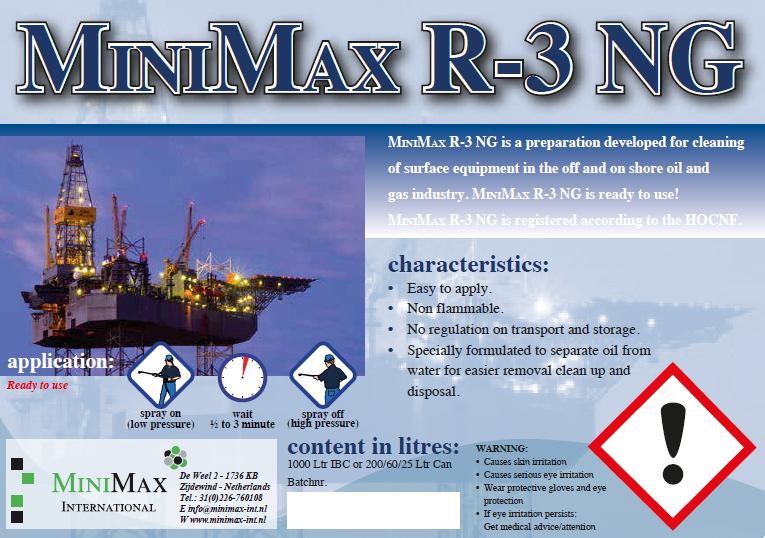 MiniMax R-3 is a water-based composite formed liquid. This agent is developed for the cleaning of greasy surfaces of for example, drilling platforms, refineries, vessels and other equipment in the oil and gas industry. This product is biodegradable and not aggressive or flammable. MiniMax R-3 meets the highest North Sea environmental standards and is approved by the HOCNF. This detergent is available in 1000, 200, 60 and 25 liter. The use of Rig Wash EC has a number of advantages. Thus, the costs are reduced for transport, the treatment and the disposal of pollution. Additionally MiniMax R-3 streamlines processes and reduces the need for strict regulations. The agent contributes to positive attention to your company for innovation and environmental stewardship.
Use of MiniMax R-3
With MiniMax R-3 a cleaner workplace will be created and is the key to the prevention strategy for environmental pollution. MiniMax R-3 is ready to use to remove grease and oil-based components. Spray the liquid with low pressure to the desired surfaces and leave for 0.5 to 3 minutes. Next you rinse the detergent with a high pressure washer. The water with R-3 can be removed via the drainage system thanks to the biodegradable aspect of this agent. Disposal of the water can be either on a drain system, as trough a closed drainage system in areas where hydrocarbon contamination is expected.
Characteristics of MiniMax R-3
Easy to apply
100% environmentally friendly and biodegradable
User friendly
Non flammable
Free of dangerous chemicals
No regulations on transport and storage
No regulations on transport and storage
Specially composed to separate oil from water for a better removal and disposal of agent.